SCOTUS Map: Summer 2017
on Sep 29, 2017
at 12:28 pm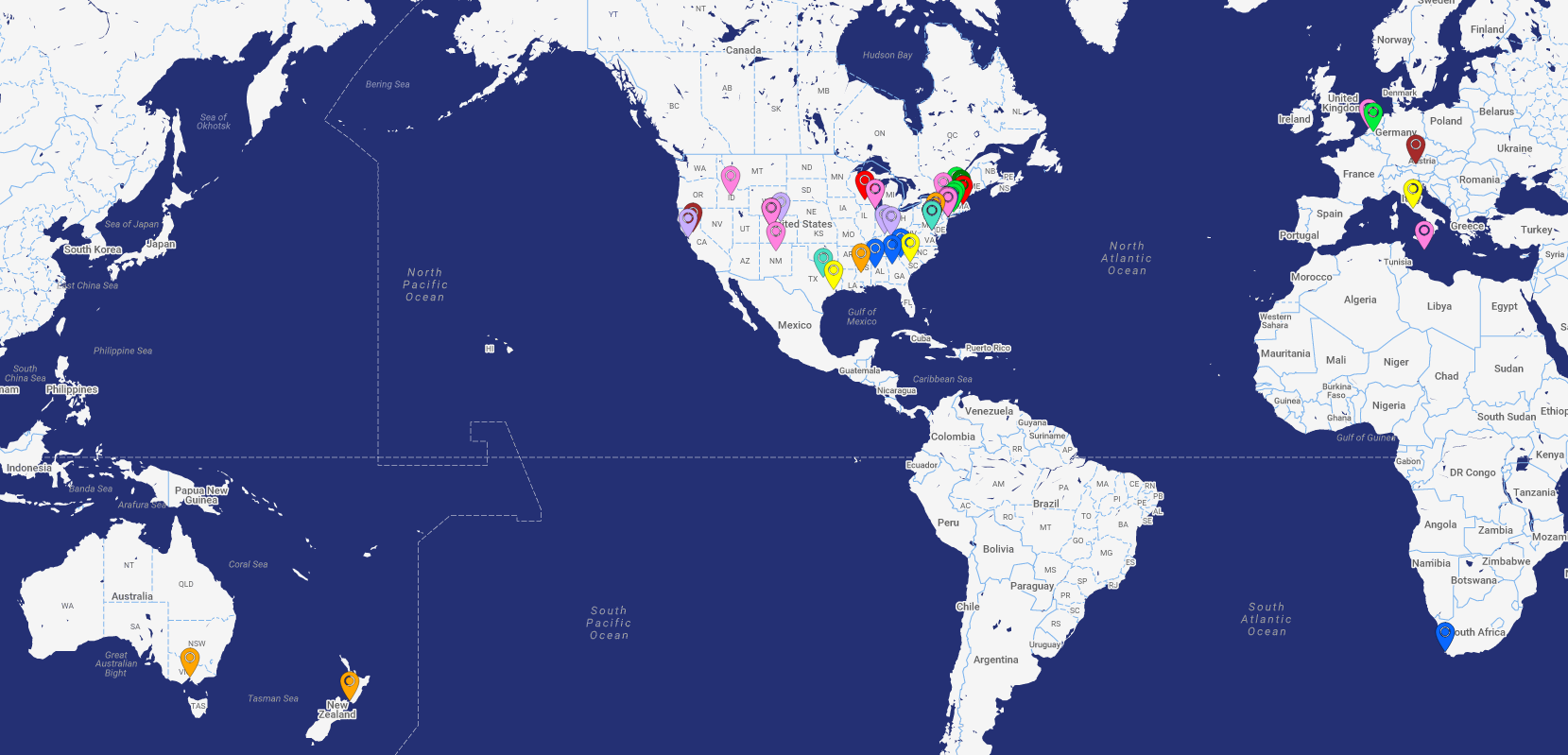 Supreme Court justices' speaking engagements typically make headlines for what happens inside, not outside, the venue. Justice Neil Gorsuch's keynote speech yesterday at The Fund for American Studies' Defending Freedom Luncheon proved an exception to the rule, sparking protests in front of the Trump International Hotel in Washington. While dozens of protestors carried signs questioning Gorsuch's impartiality and objecting to his appearance at the property – which is owned by the president who nominated him to the Supreme Court and is the subject of multiple lawsuits that may wind up before the court – Gorsuch spoke in the hotel ballroom about civility and free speech. Josh Gerstein of POLITICO quotes Gorsuch as saying, "Those with whom we disagree vehemently still have the best interests of the country at heart. We have to learn not only to tolerate different points of view, but to cherish the din of democracy." Additional coverage comes from USA Today, the New York Times and The Hill.
In addition to Gorsuch, seven other justices were active yesterday: Justices Anthony Kennedy, Clarence Thomas, Ruth Bader Ginsburg, Sonia Sotomayor and Elena Kagan traveled to New York to honor Senior Judge Ralph Winter, of the U.S. Court of Appeals for the 2nd Circuit, with the Edward J. Devitt Distinguished Service to Justice Award. Justice Samuel Alito was the featured speaker at the Archdiocese of Galveston-Houston's Red Mass Dinner, while Justice Stephen Breyer discussed his life and career at The Connecticut Forum in Hartford in what The Connecticut Mirror described as a "careful conversation." Asked what he had to say about NFL players kneeling during the national anthem, Breyer said, "Nothing." Asked whether he was a feminist, he responded, "I don't know what that is."
On September 27, Chief Justice John Roberts was in Mississippi to help celebrate the bicentennial of the state. The chief justice presided over a moot court competition between University of Mississippi and Mississippi College students before delivering remarks at a banquet that evening. Coverage of Roberts' visit comes from Mississippi Public Broadcasting and The Clarion-Ledger.
On the same day, Ginsburg made an appearance at a special session of the 2nd Circuit concluding the commemoration of the circuit's 125th anniversary. While in her hometown of New York, Ginsburg – who is far less cautious than Breyer when it comes to public comments – sat for a candid conversation with Charlie Rose at the 92nd Street Y, where she stated that she had "no doubt" sexism had been a "major factor" in the 2016 presidential campaign. The justice said she was "encouraged by the number of people, especially young people, who are expressing themselves in opposition." Coverage comes from CBS News. Full video of the event can be streamed online.
On September 23, Breyer gave a talk titled "An Apology for The Law," hosted by the Nexus Instituut in the Netherlands. A brief recap (in Dutch) is available here. On the same day, Ginsburg attended a performance of "The Merchant of Venice" at Montclair State University and participated in a roundtable discussion of the Shakespeare play afterward. NorthJersey.com has a summary of the event, and video of the discussion can be found on YouTube.
In recent years, Sotomayor has taken on an increasingly large role in promoting iCivics, a nonprofit founded by retired Justice Sandra Day O'Connor and dedicated to teaching students, through interactive games, about how government works. On September 21, Sotomayor gave a wide-ranging talk at the organization's Democracy at a Crossroads National Summit in Washington. Of the devastation that Hurricane Maria wreaked in Puerto Rico, where Sotomayor has family, the justice said, "The island is suffering a great tragedy right now. Myself personally and the rest of my family, we are exceedingly concerned. We ask for your prayers." Coverage comes from TIME and CNN.
While Sotomayor was in Washington, Gorsuch was in the Bluegrass State with Senate Majority Leader Mitch McConnell, R-Ky. Gorsuch appeared at both the University of Kentucky (as part of the John G. Heyburn II Initiative for Excellence in the Federal Judiciary) and the University of Louisville (as part of the McConnell Center's Distinguished Speaker Series).
Ginsburg was a surprise speaker at the Sixth & I Synagogue's Rosh Hashanah Services on September 20. Jessica Gresko of the Associated Press covered the event. On the same day, Ginsburg addressed 1L students at Georgetown Law, the full video for which is available via C-SPAN. Coverage of this talk comes from the school.
On September 19, retired Justice David Souter shared the stage with Judge Jeffrey Sutton of the U.S. Court of Appeals for the 6th Circuit as part of the New Hampshire Supreme Court Society's King Lecture Series.
Thomas attended the Eagle Forum's Eagle Council XLVI on September 16, where he watched his wife Ginni Thomas receive the Eagle Award before sharing the stage with her for a conversation.
On September 15, Kennedy participated in a U.S. District Court for the Eastern District of California conference on civil discourse. Kennedy noted several entities in which civility is paramount: courts, legislatures and universities. However, he remarked:
My assumption had always been that universities are part of the solution, not the problem, and I'm concerned that that may no longer be true. There was a statement made by a student—I wasn't following the controversy, but it was some college in the East, some controversy—I don't know what it was about. But the student said, the university belongs to the students. That has to be wrong. The university belongs, number one, to our heritage—to the heritage of free speech. The answer to a wrong or an insulting or an immoral idea is more speech, not less. For faculties and universities to be indifferent can be, actually, to be complicit. Indifference can be poisonous, so far as free speech is concerned. The universities must step up to the plate and insist that there is a place for peaceful, thoughtful, constructive, convincing, strong, robust disagreement, but not interruption.
The event was held at the Robert T. Matsui Courthouse, in a library and learning center named after Kennedy. News coverage comes from Bob Egelko for the San Francisco Chronicle. The news channel KCRA3 posted video of Kennedy's speech online.
While Kennedy was in Sacramento, Ginsburg delivered closing remarks for a Howard University School of Law symposium on the legacy of Pauli Murray, an activist whose legal theories had a deep influence on Ginsburg's own work as an ACLU lawyer bringing sex discrimination cases before the Supreme Court.
September 14 was a busy day for the justices. Breyer discussed the judiciary and the Constitution at a constitutional law class at Yale Law School. Two justices made appearances in South Carolina: Alito encouraged the audience at the dedication of the new University of South Carolina School of Law building to "think like a lawyer" because it is "good for our society at large," while Sotomayor participated in a Q&A session with students at Clemson University. The State and the Free Times covered Alito's speech. Independent Mail has coverage of Sotomayor's Clemson appearance, and video of the Sotomayor event is available online.
"I think there has not been a better time to be a woman in the legal profession, because no doors are closed," Ginsburg remarked at the The American Dream Reconsidered conference held by Roosevelt University on September 11. However, she added, "I won't say there's no discrimination. That would be a stretch." Coverage comes from the Chicago Sun-Times. While in the Windy City, the justice also presented the Martin D. Ginsburg Award at Cedille Records' Seventh Annual Soiree Cedille.
The previous week, Kagan talked about the value of compromise at the University of Wisconsin-Madison. In the September 8 appearance, Kagan recalled that after Justice Antonin Scalia's death, the eight-member Supreme Court made "a very serious effort to try and find common ground, even where we thought we couldn't." Even though the court is no longer short-handed, Kagan stated that she is "actually hopeful that the effects of it will continue now that we have a nine-person court, in the sense that all of us will remember not to stop the conversation too soon." The Wisconsin State Journal covered the talk, which is also available on YouTube.
Thomas participated in a conversation at McLennan Community College in Waco, Texas, on September 7. On the subject of free speech and college campuses, Thomas said, "I think that we are going to have some very—and I don't want to get too far on this—I think we're going to have people who are picking and choosing who gets protection, and that's precisely what the First Amendment was to avoid." Coverage comes from the Waco Tribune-Herald. Video is available online.
On August 31, Kagan returned to Harvard Law School, where she served as dean, and gave incoming students advice. "If you're going to have to choose between having a great brief and making a great oral argument, you should always choose to write the great brief," Kagan noted. "That's where the justices really learn about a case and in the course of reading briefs, that's where you're thinking through the issue the most." Harvard Law Today has a report on the talk. The event was also recorded and posted online.
Ginsburg always makes time for opera-related events during the summer recess, and this year was no exception. On August 25, she participated in the Santa Fe Opera and The Lensic's Justice at the Opera program. On August 13, she joined in a Q&A session following the performance of the opera "Scalia/Ginsburg" at the Glimmerglass Festival.
A couple of weeks earlier, Ginsburg headlined two events at the Aspen Institute in Colorado, speaking about her friendship with Scalia as part of the McCloskey Speaker Series on August 1 and delivering the keynote speech at the 2017 Resnick Aspen Action Forum on July 30. Aspen Times covered her McCloskey speech, which readers can watch via the Aspen Institute's YouTube page. The institute itself published a summary of the Resnick Aspen Action Forum talk, at which Ginsburg previewed the upcoming Supreme Court term, suggesting that Gill v. Whitford (on the constitutionality of partisan gerrymandering) is October Term 2017's most important case thus far. Video of that talk is available online.
Many of the justices traveled abroad in July. Sotomayor spent the end of the month in South Africa, where she spoke at the Judicial Institute for Africa on July 27 and delivered the Rabinowitz Lecture at the University of Cape Town on July 28.
Roberts traded in summer temperatures for cooler climes when he traveled to New Zealand and Australia. From July 24 to 26, he co-taught The United States Supreme Court in Historical Perspective at the Victoria University of Wellington. In a conversation with professor Mark Hickford, Roberts stated, "Judges are not politicians, and they shouldn't be scrutinized as if they were. You're not electing a representative, so you're not entitled to know what their views on political issues are." The Associated Press covered this event, and the university posted video to its YouTube account.
Before his Wellington trip, the chief justice delivered a July 20 public lecture at the University of Melbourne, where his recollections of his years in appellate advocacy doubled as advice for answering questions at oral argument:
You have to have in mind the particular points that you think will help decide the case, and try to return to those in the course of the questioning. And you do have to try to be nimble enough to try and appreciate where the question is coming from—why one of the justices is asking that question. And you have to be prepared to sort of move on from them if you don't think they're going to be helpful to your case. You can answer quickly and then turn your attention to another justice. They don't always let you off the hook, but you know, when you get that many questions, you can't really be expected to have the same number of answers. Fortunately, they will interrupt each other and you're allowed to move on.

It can be dangerous, though. I do remember one exchange when Justice Stevens was on the Court. He'd asked me a question, and I was preparing to answer it, and one of the other justices interrupted—which happens—with another question. So I tried to answer that one, and then I thought, this would endear me to Justice Stevens—and I said, Justice Stevens, I didn't have an opportunity to answer your question. And he was beaming, he was smiling—it was great—and I'm smiling back, and I suddenly realized I don't remember what the question was. I just kind of mumbled something and he had a very confused look on his face."
Video of this conversation is available via Melbourne Law School's YouTube.
Other international engagements in July included Ginsburg's keynote speech at the World Justice Forum V in the Netherlands (for which video has been posted), her course on OT 2016's rulings at the Consortium for Innovative Legal Education's Malta Study Abroad Program, Alito's guest lecturer stint at Loyola Law's Rome Program, and Kennedy's return to the McGeorge School of Law's summer program in Salzburg, Austria.
July saw an abundance of events back in the United States as well. Ginsburg exhorted attendees at the Utah State Bar Summer Convention in Sun Valley, Idaho, to "[d]o something outside of yourselves. Something that will make a difference." The Salt Lake Tribune covered the July 28 appearance. The justice touched on similar themes when she delivered the keynote at the Washington Council of Lawyers' Summer Pro Bono and Public Interest Forum on July 24. "I can say that in my life as a lawyer, I gained greater satisfaction from things I wasn't paid to do than what I got a paycheck for." GW Today has a summary of the event. While in Washington, Ginsburg also took part in a post-show conversation following the July 22 performance of the play "The Originalist" and discussed the October 2016 term at a July 21 Duke Law DC Summer Institute event. Video of the latter is available online.
On July 17, Gorsuch spoke about civic education at the U.S. Court of Appeals for the 9th Circuit Judicial Conference in San Francisco. Coverage comes from Mark Walsh of Education Week.
Sotomayor talked to participants in the Bronx Children Museum's Dream Big program at the Betances Community Center on July 13.
Kagan spoke at the Aspen Institute on July 10 as part of the Sandra Day O'Connor Conversation Series, where she discussed O'Connor's impact on her career. At her own confirmation hearing, Kagan recalled, "You're allowed to speak for five minutes and to thank the people you ought to thank. Two of the people whom I thanked were Justice O'Connor and Justice Ginsburg, because that generation of women lawyers … made all the difference in the world to people one generation on." Kagan reminded the audience that they "had to make their careers up from scratch. They kind of had to figure out how to create these brilliant careers even when the institutions of the legal profession were saying, no, we're really not ready for women. In doing that, those two women made such an incredible difference." Video is available online. The National Law Journal has a summary of Kagan's speech.
Finally, no summer report would be complete without mention of the justices' public Fourth of July celebrations. This year, Breyer read from the Declaration of Independence in Plainfield, New Hampshire, while Gorsuch returned home to Colorado and rode in the Niwot Fourth of July parade. The Valley News has a summary and video of Breyer's appearance. Coverage of Gorsuch's appearance – which, like his speech yesterday at the Trump International Hotel, was not free of protest – comes from FOX31 Denver and Daily Camera News.