SCOTUS Map: January and February 2017
on Feb 6, 2017
at 3:38 pm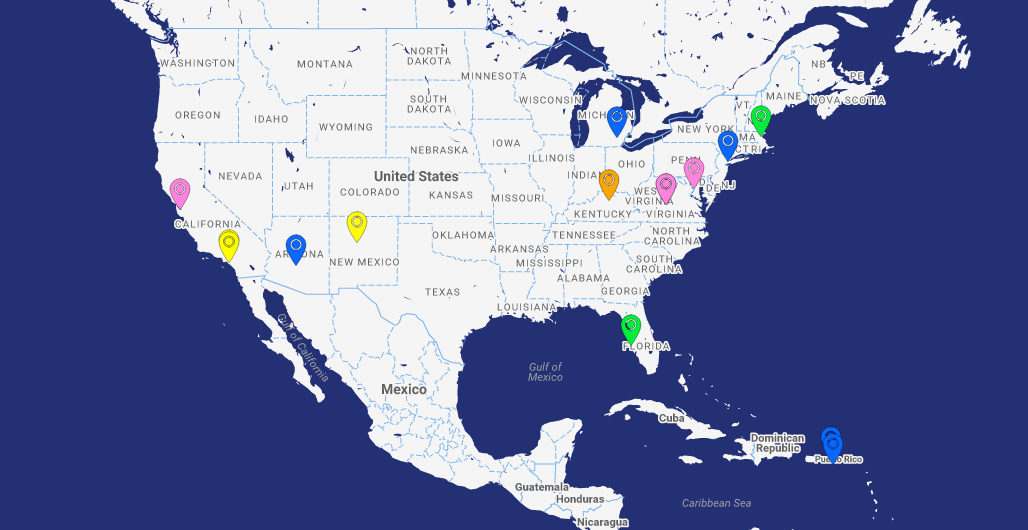 Diversity and the nomination of a new Supreme Court justice were two major themes in the justices' extrajudicial talks this past month.
Justice Sonia Sotomayor shared her thoughts about the confirmation process at the 18th Annual John P. Frank Memorial Lecture at Arizona State University on January 23. Trying to get nominees to say how they would rule on specific issues is not the right approach, Sotomayor said. "Any self-respecting judge who comes in with an agenda that would permit that judge to tell you how they will vote is the kind of person you don't want as a judge," she said. Rather, senators should ask whether nominees have ruled in ways that have run contrary to their personal feelings, and whether they have treated others with "respect and dignity." A summary of Sotomayor's talk is available at ASU Now.
On January 30, Sotomayor shared the stage with Federal Constitutional Court of Germany judge Susanne Baer at two University of Michigan events. At the first, a lecture titled "The Future University Community," she discussed the importance of increasing diversity on college campuses. "We are making improvements toward that kind of equality. But we are still far from it. When you look at the number of African Americans at the University of Michigan, there's a real problem." Video of both this event and the second lecture, "Social Justice and the Performing Arts," is available via the University of Michigan's YouTube page.
Two decades after writing the landmark United States v. Virginia opinion that opened up the Virginia Military Institute to women, Justice Ruth Bader Ginsburg spoke to students at the school that her ruling changed. Ginsburg knew that the inclusion of female "Keydets" would make the institute "a better place," she said during the February 1 visit. The justice also shared details about her exercise routine, noting that she does push-ups, weights and "something called a plank" – and that her trainer now works with Justices Elena Kagan and Stephen Breyer as well. The Roanoke Times and CNN provide coverage of the public lecture. Footage of Ginsburg's talk is posted on YouTube.
Shortly after her VMI visit, Ginsburg participated in a private Question and Answer session with students at Washington and Lee University School of Law, where she was asked to name the qualities that she believed the next Supreme Court justice should possess. According to The Columns, Ginsburg listed "a readiness to work really hard," "a willingness to listen to your colleagues" and "a sense of humor."
While Ginsburg was in Lexington, Virginia, Chief Justice John G. Roberts, Jr., traveled to Lexington, Kentucky, to take in some basketball, watch the Supreme Court nomination of Judge Neil Gorsuch of the U.S. Court of Appeals for the 10th Circuit with the University of Kentucky's coach John Calipari, and headline the inaugural John G. Heyburn II Initiative judicial conference and speaker series. Speaking at the University of Kentucky College of Law on February 1, Roberts explained some of the many responsibilities that the chief justice is expected to shoulder, including the chancellorship of the Smithsonian (though Ollie the runaway bobcat "wasn't my fault," he noted) and the maintenance of geniality on the court. According to Roberts, the latter task sometimes involves asking the justices to reconsider the use of sharp language in their dissents to skewer their colleagues:
As you all know, some of those harsh things see the light of day. But you should see the ones that didn't. And that's when you sort of represent the Court in talking to one of your colleagues and saying, "We understand that you think this issue is important, and we understand that you think this is wrong, but this particular adjective is not the one to use." And I will say that on the occasions in which I've had to do that, I've never had a colleague say, "No, that's what I'm going to say."
Roberts also described the strategic use of opinion assignment to defuse tensions:
I get to assign majority opinions when I'm in the majority. And I, frankly, try a little bit to be sensitive to those sorts of concerns at that time. If in one opinion Justice A and Justice B have had a real knock-down, drag-out fight, and in the next opinion, the same thing—they're on opposite sides, and they fight—I try to find, in the next assignment, opinions for each of them where they agree with each other, so at least for a brief period they're not at each other's throats.
News coverage of the lecture comes from the Lexington Herald Leader. Video of the event is available online (the Chief Justice's interview begins at the 1:29:28 mark).
On February 2, Sotomayor addressed students at St. Francis College in Brooklyn, New York, as part of the school's Thomas J. Volpe Lecture Series. The Associated Press posted a brief video clip of Sotomayor speaking about life tenure and incremental change on the Supreme Court. "In your lifetime, the likelihood of the court changing completely more than once is unlikely," she said of justice turnover. "So, given that the current nominee is 49 years old, he has the possibility of serving 30 years, 40, maybe more. My colleague Justice Stevens was there until he was 90." Sotomayor then added, "It means the basic essence of the court as you know it today is going to be there for a lot of years. But if you are looking for a radical change of the face of the court from the backgrounds that exist today, don't think you are going to find radical changes."
Looking ahead to the rest of February: