SCOTUS NEWS
Jackson becomes first Black woman to serve on Supreme Court as Breyer steps down
on Jun 30, 2022
at 2:06 pm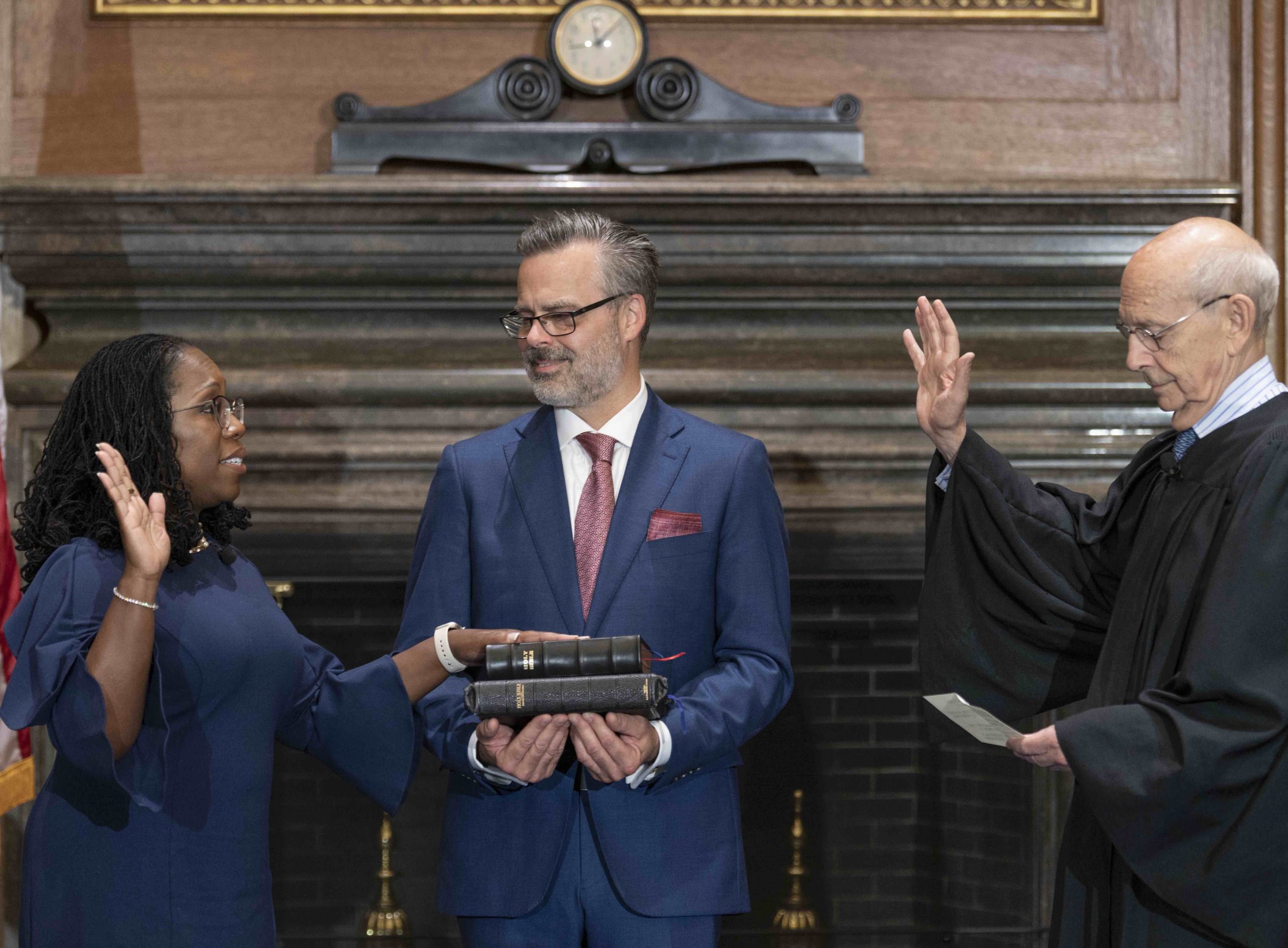 Just after the court issued its final opinions for the term, Ketanji Brown Jackson was sworn in as the 104th associate justice of the Supreme Court. Jackson is the first Black woman to serve on the high court and the sixth woman justice. She replaces Justice Stephen Breyer, who retired on Thursday after 28 years on the court.
The five-minute swearing-in ceremony was livestreamed from the court's West Conference Room. Jackson's husband, Dr. Patrick Jackson, and her two daughters attended. Dr. Jackson held a family Bible and the Harlan Bible and watched, smiling, as his wife took the two oaths required for Supreme Court justices.
Chief Justice John Roberts administered the constitutional oath and Breyer, for whom Jackson clerked, administered the judicial oath.
In a written statement after the ceremony, Jackson said:
With a full heart, I accept the solemn responsibility of supporting and defending the Constitution of the United States and administering justice without fear or favor, so help me God. I am truly grateful to be part of the promise of our great Nation … In the wake of his exemplary service, with the support of my family and friends, and ever mindful of the duty to promote the Rule of Law, I am well-positioned to serve the American people.
Breyer extended his congratulations to the new justice. He said he was glad for his colleagues and the country to gain Jackson as a justice. "Ketanji will interpret the law wisely and fairly, helping that law to work better for the American people, whom it serves," he said in a written statement.
Before joining the court, Jackson attained three federal clerkships, worked in private practice, served on the U.S. Sentencing Commission, and spent two years as a public defender. She then served as a judge on the U.S. district court in Washington, D.C. for seven years, and, since last year, on the U.S. Court of Appeals for the District of Columbia Circuit.
Jackson was confirmed by a Senate vote of 53-47 in April. She will take the bench when the justices return on Oct. 3 for the first day of the 2022-23 term.