SCOTUS Bracketology
In Supreme Court March Madness, eight justices remain standing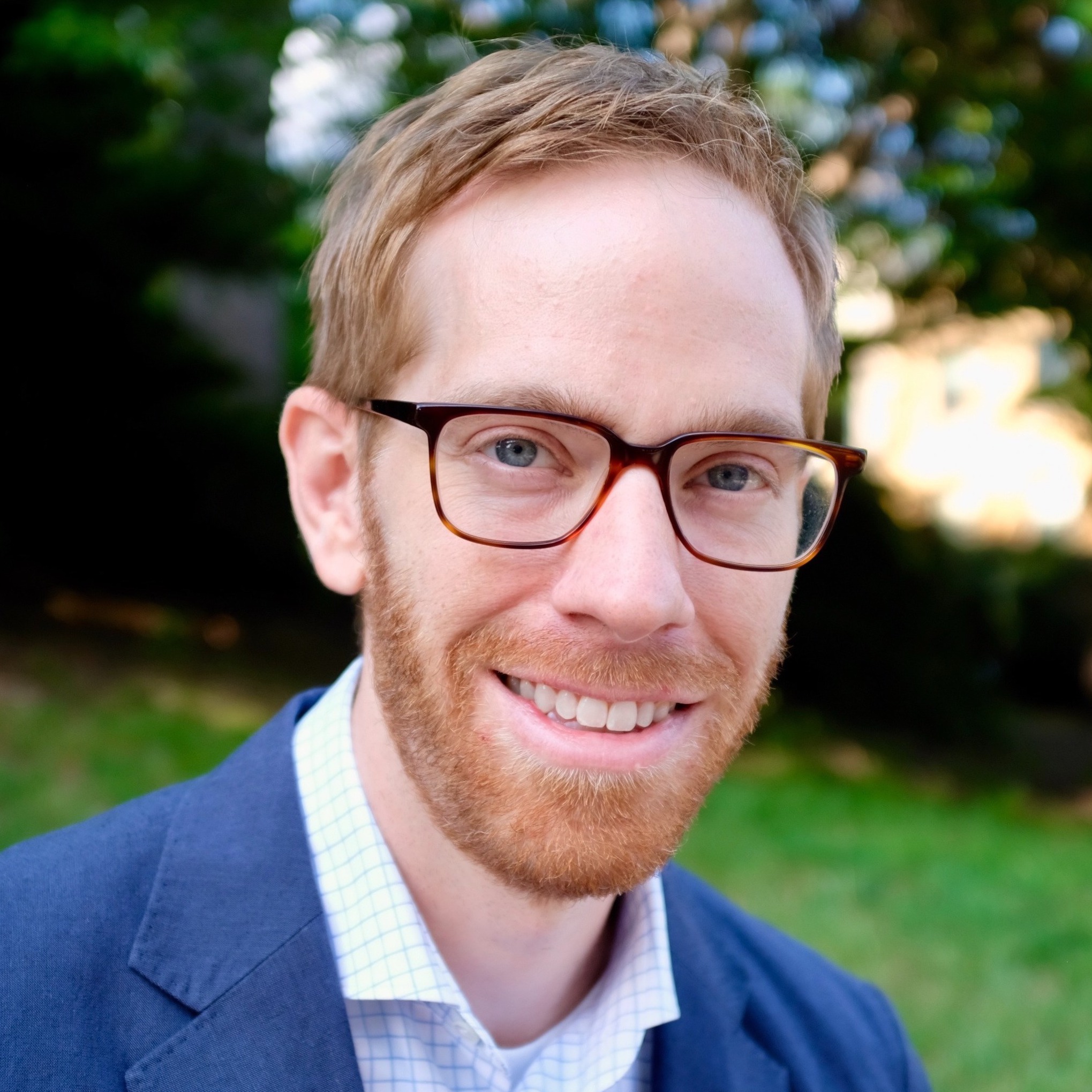 on Mar 24, 2021
at 9:58 pm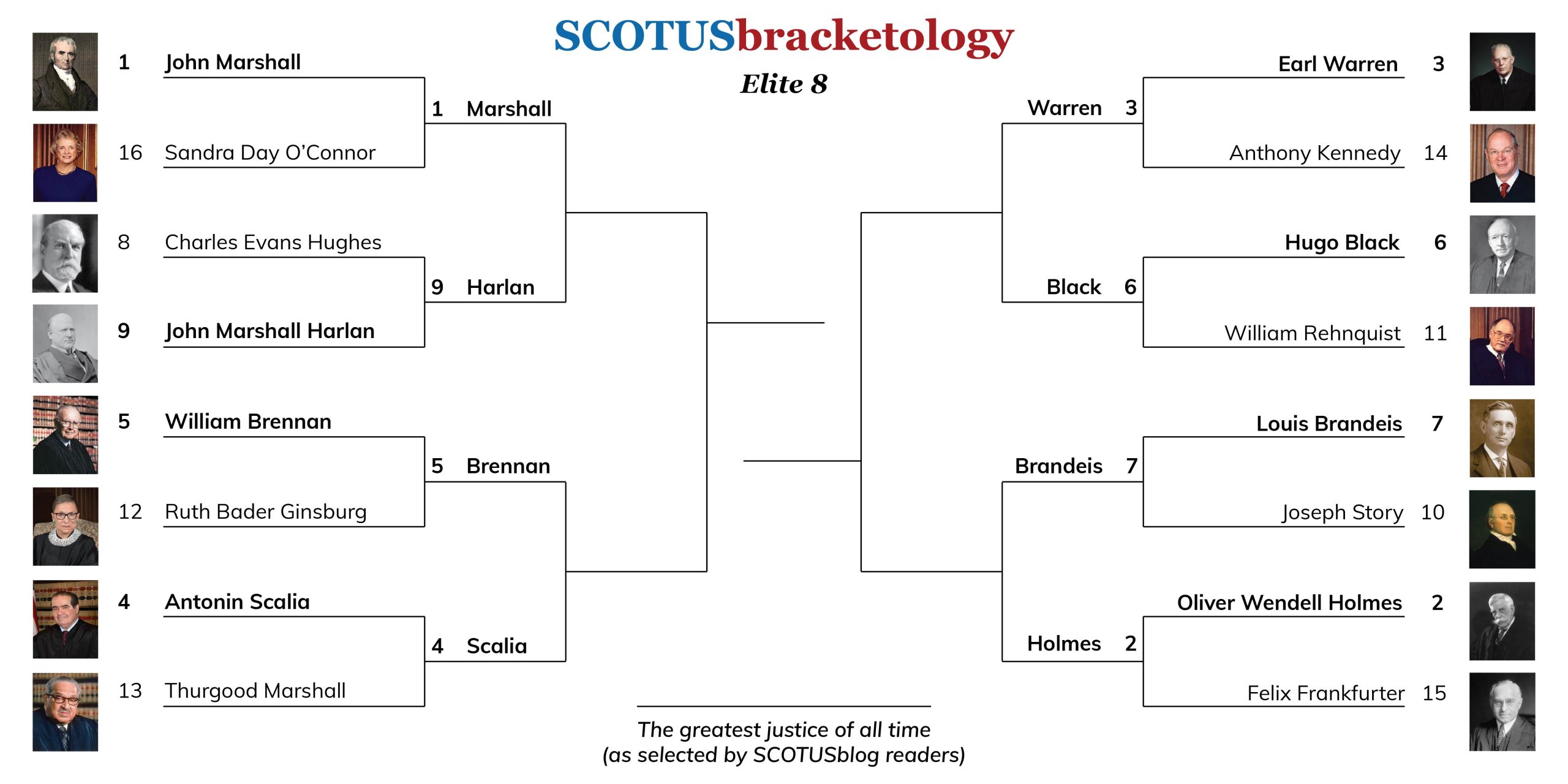 The first round of SCOTUS bracketology – our unofficial tournament to allow readers to choose the greatest Supreme Court justice – wasn't as chaotic as the first weekend of the NCAA tournament. There were no stunning upsets of juggernaut justices and no magical runs from measly 15-seeds. But a couple of contests did end in virtual buzzer beaters, and now only eight justices remain. The full first-round results are here.
As a reminder, we chose 16 former justices to start the tournament (no current justices were included). We invited feedback on our seeding and selection criteria – and like any good March Madness debate, there was no shortage of quibbling. Fans of Chief Justice William Howard Taft and Justices Harry Blackmun, Benjamin Cardozo and John Paul Stevens were among those who registered their displeasure. Even the institute named for Justice James Wilson chimed in. But the preponderance of complaints centered on the selection committee's omission of two justices: Justice William Douglas (whose snub inspired an impassioned Twitter thread on Douglas' greatness) and Justice Robert Jackson (whose gorgeous prose, we readily admit, is even prettier than Corey Kispert's jump shot).
What can we say? We agree that Douglas and Jackson were tough exclusions – neither would be out of place in this tournament. Perhaps they are like Duke and Kentucky – longstanding powerhouses who simply have to wait until next year's Big Dance.
In any event, this year's title remains up for grabs, and it's up to you to decide who should advance to the Final Four. Voting for this round will remain open until midnight on Sunday, March 28.
1 John Marshall vs. 9 John Marshall Harlan
The year is 1833. John Marshall is in his fourth decade as chief justice of the United States. And in central Kentucky, a prominent lawyer and politician named James Harlan has a newborn boy. He decides to name him after the chief justice, whom he admires. Forty-four years later, that newborn boy – John Marshall Harlan I – is himself appointed to the Supreme Court. And 144 years after that, he finds himself in SCOTUS bracketology, facing off against the man for whom he was named.
Marshall needs little introduction. Before his appointment as chief in 1801, the Supreme Court was a fledgling and modest institution. But Marshall – through seminal opinions like Marbury v. Madison – established the court as a formidable organ of government, on par with (and in some ways more powerful than) the other two branches. Harlan was also a visionary. During his 34 years on the court (the same number of years that Marshall served!), he argued for a robust interpretation of the 14th Amendment, pioneered the idea that the Bill of Rights applies to the states, and wrote the sole dissent in Plessy v. Ferguson.
Both men, however, have serious blemishes on their records. Marshall, a lifelong slave owner, repeatedly protected the slave trade in his rulings. And Harlan, despite his record supporting civil rights for Black people, joined a dissent in United States v. Wong Kim Ark arguing that U.S.-born children of Chinese immigrants were not American citizens.
Who should advance?
1 John Marshall (chief justice, 1801-1835) (79%, 2,673 Votes)
9 John Marshall Harlan (associate justice, 1877-1911) (21%, 700 Votes)
Total Voters: 3,373
5 William Brennan vs. 4 Antonin Scalia
William Brennan and Antonin Scalia each won first-round squeakers, attaining narrow victories over Ruth Bader Ginsburg and Thurgood Marshall, respectively. These two titans now meet in a second-round ideological clash.
In some respects, Brennan and Scalia had a lot in common: Both were Roman Catholics from New Jersey whose parents were first-generation immigrants. But as justices, they could not have been more different. Brennan, an outspoken advocate for a "living Constitution," is a hero to the left for his rulings that expanded free speech, voting rights, due process protections, and the rights of criminal defendants. Scalia, a strict constructionist and originalist, is just as much a hero to the right. With an acerbic and uncompromising style, he led a conservative intellectual resurgence in American law, and his noteworthy opinions include landmark rulings in favor of gun rights and fiery dissents critiquing affirmative action and the expansion of LGBTQ rights.
In 1996, Scalia called Brennan, his ideological foe, "probably the most influential justice of the century." Scalia served 20 more years after he made that statement. The question now is whether Scalia surpassed Brennan's influence.
Who should advance?
5 William Brennan (associate justice, 1956-1990) (47%, 1,879 Votes)
4 Antonin Scalia (associate justice, 1986-2016) (53%, 2,149 Votes)
Total Voters: 4,028
3 Earl Warren vs. 6 Hugo Black
Earl Warren strolled through the first round, defeating Justice Anthony Kennedy with 82% of the vote – the highest percentage of any first-round winner. He's now up against Hugo Black, who survived a close opening match against Chief Justice William Rehnquist. Now they meet in what might be called an intra-conference rivalry: Black was an associate justice for the entire time that Warren was chief.
In some ways, the two were aligned. Black joined the most important opinion that Warren wrote (Brown v. Board of Education) and Warren joined the most important opinion that Black wrote (Gideon v. Wainwright). But ideologically and jurisprudentially, they were very different. Warren (who before joining the court served as governor of California) was a skilled politician who harnessed the court's power and helped transform American society in a starkly liberal direction. Black, on the other hand, defied ideological labels. He was committed to the Constitution's "plain meaning." That meant he advocated expansive views of certain rights (such as an absolutist view of the First Amendment's free speech protections) while rejecting others (such as the right to purchase contraceptives recognized in Griswold v. Connecticut).
Who should advance?
3 Earl Warren (chief justice, 1953-1969) (64%, 2,187 Votes)
6 Hugo Black (associate justice, 1937-1971) (36%, 1,213 Votes)
Total Voters: 3,400
7 Louis Brandeis vs. 2 Oliver Wendell Holmes
Another set of former colleagues meets in the final match of the second round. Louis Brandeis and Oliver Wendell Holmes were famously in lockstep in a series of important First Amendment opinions during their tenure, culminating in Whitney v. California, in which Brandeis wrote an iconic concurrence (joined by Holmes) that is arguably the most stirring defense of free speech ever written by any justice.
They each, of course, also had separate achievements. Holmes' pithy dissent in Lochner v. New York is among the most famous dissents ever written; it enunciated the theory of judicial restraint. Brandeis, for his part, was an early proponent of the right to privacy and, during the 1930s, was one of the "Three Musketeers" – the court's liberal wing that supported New Deal legislation.
Who should advance?
7 Louis Brandeis (associate justice, 1916-1939) (50%, 1,839 Votes)
2 Oliver Wendell Holmes (associate justice, 1902-1932) (50%, 1,818 Votes)
Total Voters: 3,657