Judge Kavanaugh on abortion: Rehnquist as "judicial hero" and the case of Jane Doe

on Jul 18, 2018
at 4:08 pm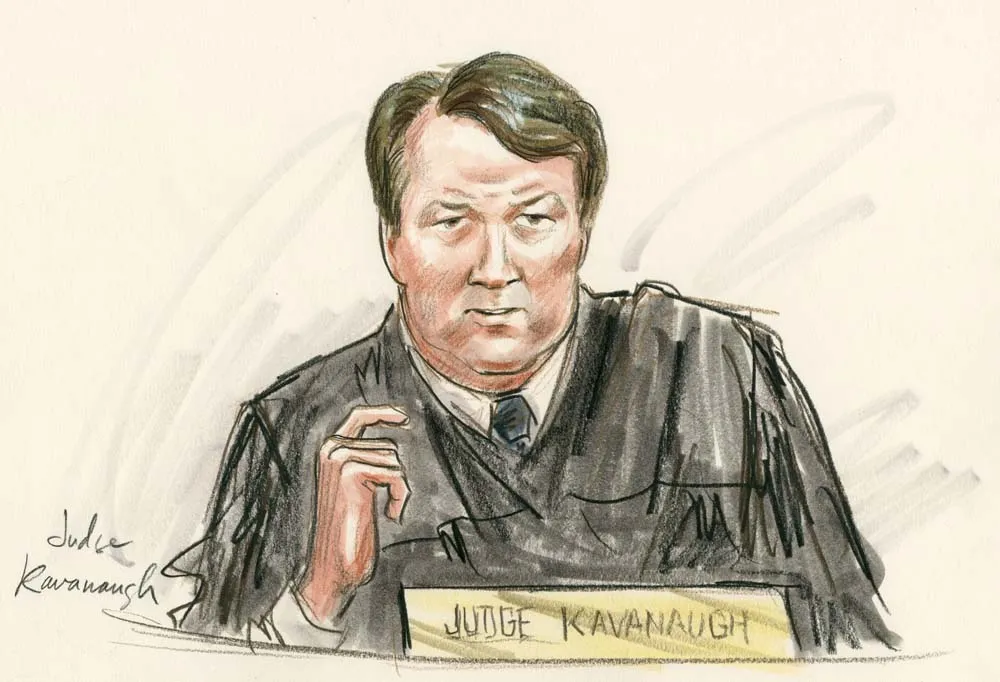 During his campaign for the presidency, then-candidate Donald Trump announced that he would appoint justices to the Supreme Court who would overturn Roe v. Wade, the 1973 case establishing a woman's right to terminate her pregnancy. Other presidents have made similar promises before, but they have not always come to pass. For example, in 1981 President Ronald Reagan nominated Sandra Day O'Connor, who would later vote to reaffirm the core holding of Roe. One of the justices who joined O'Connor in upholding Roe that year was another Reagan appointee, Justice Anthony Kennedy, who announced his retirement earlier this summer. Kennedy's pivotal role in the Supreme Court's abortion cases has prompted intense scrutiny of the views of Judge Brett Kavanaugh, whom Trump nominated to succeed Kennedy. Although there is no way to know whether Kavanaugh would vote to reverse Roe, there are at least a few signs, in a recent lecture and his dissent in a case involving access to abortion, suggesting that Kavanaugh might be more receptive to laws and policies restricting abortion than Kennedy was.
In the years that followed the Supreme Court's decision in Roe, opposition to the decision gained steam, leading to efforts to overrule it. In 1992, a deeply divided court upheld most (but not all) of a Pennsylvania law restricting abortions. Kennedy wrote an unusual joint opinion, along with O'Connor and Justice David Souter, appointed to the court by President George H.W. Bush, that reaffirmed the "essential holding" of Roe. "Men and women of good conscience can disagree," the three justices acknowledged, about "the profound moral and spiritual implications of terminating a pregnancy, even in its earliest stage. Some of us as individuals," the opinion continued, "find abortion offensive to our most basic principles of morality, but that cannot control our decision." At the same time, the joint opinion outlined a new and less stringent test for evaluating challenges to the constitutionality of abortion regulations: Efforts to regulate abortions before the fetus is viable are constitutional as long as they do not impose an "undue burden" on a woman's right to end her pregnancy.
Two years ago, Kennedy and the court's four more liberal justices – Ruth Bader Ginsburg, Stephen Breyer, Sonia Sotomayor and Elena Kagan – joined forces to strike down two parts of a Texas law that had made it much harder for abortion clinics to operate in the state. When it passed the law, the state's legislature had pointed to the need to protect women's health, but the majority declined to take that justification at face value.
During his 12 years on the U.S. Court of Appeals for the District of Columbia Circuit, Kavanaugh did not encounter any challenges to state or local laws restricting abortion – not much of a surprise, given the District's fiercely liberal leanings. But last fall Kavanaugh provided at least a little insight into his views on Roe v. Wade in a Constitution Day lecture at the American Enterprise Institute. As David Savage reported for the Los Angeles Times last week, Kavanaugh opted to focus on what he described as the "constitutional statesmanship" of the late Chief Justice William Rehnquist, whom Kavanaugh praised as his "first judicial hero." Explaining that Rehnquist "brought about a massive change in constitutional law and how we think about the Constitution," Kavanaugh outlined "five areas of Rehnquist's jurisprudence where he applied his principles and where he had a massive and enduring impact on American law."
One of those areas was, Kavanaugh continued, "the Court's power to recognize unenumerated rights." Rehnquist's dissent in Roe, Kavanaugh wrote, "did not suggest that the Constitution protected no rights other than those enumerated in the text of the Bill of Rights." But Rehnquist indicated that, "under the Court's precedents, any such unenumerated right had to be rooted in the traditions and conscience of our people" – which, in Rehnquist's view, abortion was not. Rehnquist reasoned that a "law prohibiting an abortion even where the mother's life was in jeopardy would violate the Constitution," but otherwise states could pass laws restricting abortion.
To be sure, Kavanaugh did not expressly endorse Rehnquist's writings on Roe (and his discussion of Roe takes up at most a page of the 17-page lecture). But in addition to describing Rehnquist as his "judicial hero," Kavanaugh also wrote that, when he was assigned while in law school to read cases from Rehnquist's time on the court, Rehnquist's "opinions made a lot of sense to me. In class after class," Kavanaugh concluded, "I stood with Rehnquist" – a statement that could be read to signal at least some agreement with Rehnquist's dissent in Roe.
Roughly a month after his Constitution Day lecture, Kavanaugh was selected for a three-judge panel to consider an emergency appeal by the federal government in the case of Jane Doe, an undocumented teenager in immigration custody who wanted to have an abortion. As The Washington Post reported, Kavanaugh's votes in the case prompted the president of the National Women's Law Center to characterize it as his "audition for the Supreme Court," noting that he was only added to Trump's shortlist of potential Supreme Court nominees after he "demonstrated his hostility to abortion," while the president of Americans United for Life said that she was "confident" that Kavanaugh would believe that Roe was wrongly decided.
The legal battle began last fall, when Jane Doe – a 17-year-old who was then approximately eight weeks pregnant – tried to enter the United States illegally, without any adult family members accompanying her. She was detained by federal immigration authorities and placed in a federally funded shelter. When Doe asked to obtain an abortion, her request was denied, because the Office of Refugee Resettlement (the federal agency responsible for unaccompanied minors in immigration custody) bars workers at federal immigration shelters from "taking any action that facilitates abortion without direction and approval from" the ORR director.
On October 13, 2017, Doe filed a lawsuit in federal district court, seeking access to an abortion. The district court ruled in her favor five days later, ordering the government to allow her to be taken to an abortion provider. The government went to the D.C. Circuit, asking the court of appeals to put the district court's order on hold while it appealed the ruling. The government argued that its refusal to help Doe obtain an abortion could not impose any real burden, much less an undue burden, on Doe's rights because Doe had other options: She could choose to leave the United States altogether, or she could find a sponsor to take her on. The government emphasized that it had a strong interest "in promoting fetal life and childbirth"; moreover, it added, courts have ruled that there is no "undue burden" imposed by government policies that "encourage childbirth over abortion by refusing to affirmatively facilitate a woman's right to an abortion, which the government has no duty to do."
On October 20, Kavanaugh and Judge Karen LeCraft Henderson granted the government's request, in a brief order that drew a lengthy dissent from Judge Patricia Millett. Kavanaugh and Henderson agreed with the government's argument that requiring Doe to be released from immigration custody to a sponsor "does not unduly burden the minor's right under Supreme Court precedent to an abortion" – "so long as the process of securing a sponsor to whom the minor is released occurs expeditiously." The pair gave the federal government 11 days to find a sponsor for Doe and release her, at which point she could obtain an abortion. If the government could not find a sponsor, the order continued, the district court could enter another order, from which the government or Doe could then appeal.
Doe quickly went to the full D.C. Circuit, which on October 24 issued an order that cleared the way for Doe's abortion. Kavanaugh dissented from that ruling, arguing that the decision "is ultimately based on a constitutional principle as novel as it is wrong: a new right for unlawful immigrant minors in U.S. government detention to obtain immediate abortion on demand, thereby barring any Government efforts to expeditiously transfer the minors to their immigration sponsors before they make that momentous life decision." Describing the case as "novel and highly fraught," Kavanaugh contended that it "is not an undue burden for the U.S. Government to transfer an unlawful immigrant minor to an immigration sponsor before she has an abortion, so long as the transfer is expeditious." Here, Kavanaugh explained, transferring custody of Doe to a sponsor by October 31 (the deadline set by the panel) would be expeditious because she would still only be 16 or 17 weeks pregnant, and could get an abortion at that point. Even if no sponsor were found by October 31, Kavanaugh continued, "it could turn out that the Government will be required by existing Supreme Court precedent to allow the abortion," even if Doe is still in immigration custody. "In any event," Kavanaugh added, the court of appeals "can immediately consider any additional arguments from the Government if and when transfer to a sponsor is unsuccessful."
Kavanaugh criticized what he interpreted as the majority's belief that the federal government does not have any reason "to want to transfer an unlawful immigrant minor to an immigration sponsor before the minor has an abortion." Kavanaugh countered that, in this case, Doe was a teenager alone in a foreign country. "She is pregnant and has to make a major life decision. Is it really absurd," Kavanaugh asked (seemingly rhetorically), "for the United States to think that the minor should be transferred to her immigration sponsor – ordinarily a family member, relative, or friend – before she makes that decision," thereby putting her "in a better place"?
Kavanaugh did not join a separate dissent by Henderson, who argued that Doe did not have a right to an abortion because she was not a U.S. citizen. (His failure to join the Henderson dissent drew criticism from some conservatives, who interpreted it as a "tendency toward caution and compromise that could signal an unwillingness to make waves" – including a hesitancy to overturn Roe.) In an opinion concurring in the full court's ruling, Millett stressed that the government had "expressly and deliberately" not challenged whether Doe had such a right, which could be at least one reason why Kavanaugh did not sign on to Henderson's opinion.
Millett also pushed back against Kavanaugh's argument that requiring Doe to wait 11 days, in the hope that the government could find her a sponsor, would not impose an "undue burden" on her right to terminate her pregnancy. Millett emphasized that the government had already had almost seven weeks to look for a sponsor; adding on 11 more days, she suggested, "is the antithesis of expedition." And "even if sponsorship, as Judge Kavanaugh supposes, might be more optimal in a policy sense, [Doe] has already made her decision." Kavanaugh's dissent, Millett argued, assumed that Doe could benefit from a sponsor because she was alone in the United States, without "a support network of friends and family." But that is precisely why states like Texas give pregnant teenagers the possibility to obtain an abortion without parental consent when they "find themselves in dysfunctional and sometimes dangerous situations" "in which those networks have broken down."
One day after the full D.C. Circuit's order, Jane Doe obtained her abortion. On November 3, the government went to the Supreme Court, asking it to vacate the D.C. Circuit's ruling, so that it would no longer serve as legal precedent; the government also urged the justices to sanction Doe's attorneys for misconduct, which the government contended had prevented it from seeking Supreme Court review of the October 24 order.
Seven months later, the Supreme Court finally acted on the government's petition, issuing a five-page, unsigned opinion from which there were no public dissents. The court threw out the D.C. Circuit's order, describing that outcome as "squarely within the Court's established practice" because the teenager's bid for an abortion – the only issue on which the D.C. Circuit had ruled – "became moot after the abortion." But the court rejected the government's request to sanction Doe's lawyers.
At his confirmation hearing for his position on the D.C. Circuit, Kavanaugh pledged that, if confirmed, he would "follow Roe v. Wade faithfully and fully," calling it "binding precedent" that had been "decided by the Supreme Court" and "reaffirmed many times." As a Supreme Court justice, of course, Kavanaugh would be in a different position than a judge on a federal appeals court: The justices can and sometimes do overrule their earlier cases, as they did twice in the term that ended in June. But even if there are not five votes on the court to overrule Roe, with Kavanaugh on the court instead of Kennedy there could also be five justices who believe that various restrictions on abortion do not rise to the level of an "undue burden" on a woman's right to terminate her pregnancy. As Jennifer Haberkorn of Politico has reported, several cases involving abortion issues could make their way to the Supreme Court soon, which could in turn give us much better insight into Kavanaugh's views on abortion if he is confirmed.
This piece is cross-posted from Howe on the Court.