Afternoon round-up: Today's oral argument in Trump v. Hawaii
on Apr 25, 2018
at 5:15 pm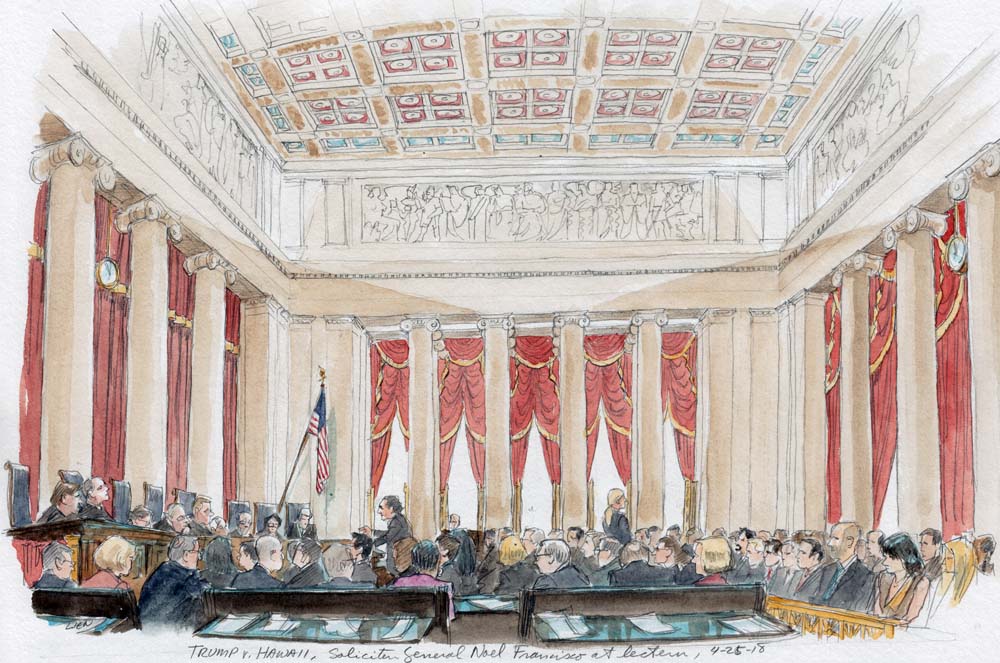 Today the Supreme Court heard oral argument in Trump v. Hawaii, a challenge to the latest version of the Trump administration's entry ban. Amy Howe has this blog's analysis, which was first published at Howe on the Court. She reports that after over an hour of debate, "a majority of the court (and perhaps even a solid one) appeared ready to rule for the government and uphold the order in response to concerns about second-guessing the president on national-security issues." Mark Walsh provides a "view" from the courtroom.
Additional early coverage of the argument comes from Mark Sherman of the Associated Press, Adam Liptak and Michael Shear of the New York Times, Robert Barnes, Ann Marimow and Matt Zapotosky of the Washington Post, David Savage of the  Los Angeles Times, Josh Gerstein and Ted Hesson of Politico, Mark Walsh of Education Week, Nina Totenberg of NPR, Lawrence Hurley and Andrew Chung of Reuters, Ariane de Vogue and Saba Hamedy of CNN, Greg Stohr of Bloomberg and Richard Wolf of USA Today.
Early commentary on the argument comes from Ruthann Robson on the Constitutional Law Prof Blog and Michael Dorf on Dorf on Law, who writes that "Korematsu v. US is controlling in a way that benefits the plaintiffs." "Ideally, the oral argument would have surfaced that point. I'm surfacing it now."
In an op-ed at the Washington Post, Amanda Frost writes that "lurking in the background" of constitutional questions about the scope of presidential power over immigration "is an equally important question about the federal courts' authority to check abuses of federal government power" through nationwide injunctions.
At Take Care, Justin Levitt connects today's argument to yesterday's argument in the Texas racial-gerrymandering cases, Abbott v. Perez, arguing that both of these cases have "ramifications far beyond the context of either case alone" – "the staying power of a discriminatory taint."
And in an op-ed at the Los Angeles Times, Joshua Geltzer suggests that although the "nine justices who make up the court have different predilections," "this case is something of a judicial buffet: There's a rationale for overturning the ban that fits everyone's taste."