Black History Month on SCOTUSblog

on Feb 1, 2010
at 9:34 am
UPDATE, Feb. 5:Â  The content of this post will be continually updated throughout the month of February to reflect the latest schedule.
We are very excited to announce the lineup of participants for our special February programming on Race and the Supreme Court, in recognition of Black History Month.
We extend sincere thanks to the law professors, litigators, historians, journalists, and other top professionals who have donated their time and resources to this project.  Our goal is to reflect on the lasting impact the Supreme Court has had on race, both in law and in American society.  In light of Black History Month, many of our contributors focus on the Court's historical impact on the black community.  The topics reflect diverse and sometimes divergent views, opinions, attitudes, and assumptions. This diversity adds to the value of the project and reinforces the mission of SCOTUSblog to provide relevant, credible, and balanced Supreme Court coverage.  Drawing special attention during Black History Month to the legacy of legal issues pertaining to Race and the Supreme Court, we believe, will expand public knowledge and awareness of the Court's centrality in shaping American history.
Below is a list and preliminary schedule (subject to change) of authors and topics to be posted over the next month.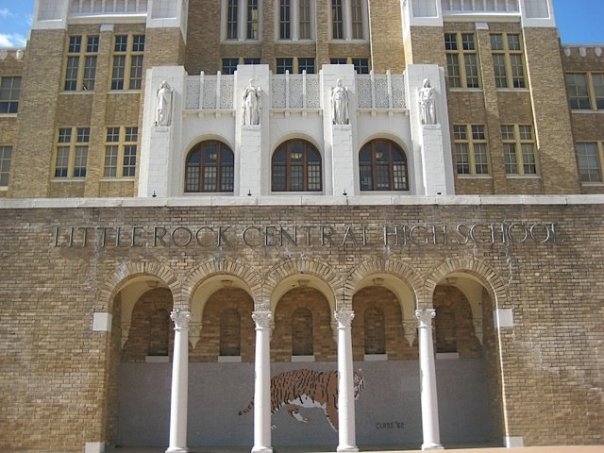 In 1957, three years after the Supreme Court's decision in Brown v. Board of Education, Little Rock Central High was the site of the public forced integration of nine African American students ("The Little Rock Nine").
Week 1
"Has the Supreme Court Been Mainly a Friend or a Foe to African Americans?: The Supreme Court's Impact on Black History for the Past Fifty Years"
–Michael Klarman, professor at Harvard Law School
"Ending Racial Preferences"
–Roger Clegg, president of the Center for Equal Opportunity
"Justice Kennedy's Evolving Views On Race"
–Heather Gerken, professor at Yale Law School
"The Supreme Court, Race, and Political Representation"
–Kenneth Mack, professor at Harvard Law School
Week 2
"NAMUDNO: Right Question, Wrong Case"
–Abigail Thernstrom, vice-chair of the U.S. Commission on Civil Rights and adjunct scholar at the American Enterprise Institute
"Jones v. Alfred Mayer and the Uniqueness Of Race"
–Michael Rosman, general counsel for the Center for Individual Rights
Post on Buchanan v. Warley and residential segregation
–David Bernstein, professor at George Mason University School of Law
Podcast with Vernon Jordan, former president of the National Urban League and civil rights litigator (topic TBA)
Week 3
Podcast: "The Unexpected Consequences of Brown v. Board of Education on African American Schools and Education in the South"
–David Cecelski, historian and author of Along Freedom Road, Hyde County, North Carolina, and the Fate of Black Schools in the South
Podcast on Brown v. Board of Education
–Nina Totenberg, legal affairs correspondent for National Public Radio
"The Global Impact of Brown v. Board of Education"
–Mary Dudziak, professor at the University of Southern California Gould School of Law and founder of the Legal History Blog
"What Can Brown Do For You?: The Court's Struggle Over the Meaning of Equal Protection"
–Pamela Karlan, professor at Stanford Law School
Podcast: Interview on Brown v. Board of Education and subsequent litigation over black civil rights
–Jack Greenberg, professor at Columbia Law School and former director-counsel of the NAACP Legal Defense and Education Fund
Week 4

Post on "disparate impact analysis" and the Constitution
–Gail Heriot, former commissioner of the U.S. Commission on Civil Rights and present professor at the University of San Diego Law School
Podcast with David Stras, law professor at the University of Minnesota, on his experience clerking for Justice Clarence Thomas
"What Powell v. McCormack Teaches Us About Racial Politics in a Constitutional Democracy"
–Kareem Crayton, professor at the University of Southern California Gould School of Law
Unscheduled Posts
Topics for additional posts are being considered by:
Debo Adegbile, director of litigation of the NAACP Legal Defense Fund
Eric Schnapper, professor at the University of Washington School of Law
Charles Ogletree, professor at Harvard Law School and director of the Charles Hamilton Houston Institute for Race and Justice
Gerald Torres, professor at the University of Texas law school
Robert Cottrol, professor at George Washington University's law school
Erwin Chemerinsky, dean of the University of California, Irvine School of Law
Theodore Shaw, professor at Columbia Law School and former director-counsel and president of the NAACP Legal Defense and Educational Fund